Membership
Membership in the Green Valley Democrats rewards you with a community of like-minded people, educational and fun events and a way to help turn the state of Arizona BLUE!

Now Accepting Membership Dues for 2023
Dues paid before February 1, 2023 are at the current rate of $25. Beginning February 1st, dues will increase to $30 per year. Submit your dues early to take advantage of the current rate. Dues may be paid on-line at ActBlue, in-person at Headquarters or by printing out and mailing in this form to:
Green Valley Democrats
P.O. Box 131
Green Valley, AZ 85622
Democracy Needs You!
And THANK YOU for joining or renewing your membership!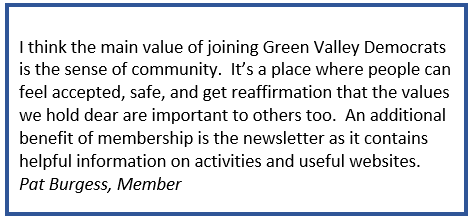 To Check On Whether Your Membership Is Up To Date, click here.