Welcome to Green Valley Democrats!
We are a community organization that stimulates and promotes democratic values, by offering educational and action opportunities. Please join us!
---
Upcoming Events
Saturday, October 23, 3:00 p.m. – 4:30 p.m.
Room #203, Continental Shopping Plaza
Speaker: Retired Santa Cruz County Sheriff Tony Estrada
Retired Santa Cruz County Sheriff
Tony Estrada will share his views of
the current Border Wall and
Immigration issues. He will answer
questions at the end of the
program.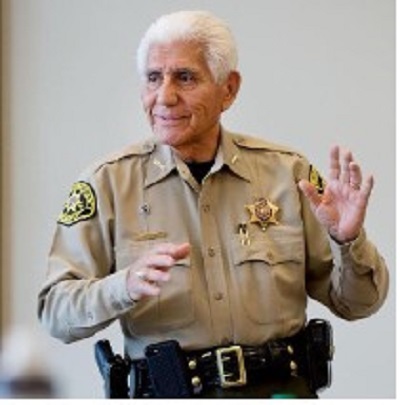 This is an in-person program. Seating is limited to 50. Masks are required during the entire program and we appreciate that only those who are vaccinated attend.
---
---
Headquarters re-opens on September 8. New hours are Monday, Wednesday, and Friday, 10 a.m. – 2 p.m.
---
---
Our fight continues to return our country to the leadership role we have had for decades. As a club we are dedicated to supporting candidates who will help us regain that role. Please continue to support our efforts by renewing your membership now!
Annual membership dues are $25 per person.
Click HERE for online payment. Or, print out the membership form and mail your dues to:
Green Valley Democrats
PO Box 131
Green Valley, AZ 85622
Please note on your check that it is for "Membership 2022."
---
---
Casa Alitas is looking for volunteers to help staff a reception center in Nogales AZ. There are 2 shifts: mornings from 10-2 and afternoons from 2-6. Asylum candidates are dropped off twice daily in groups of up to 25. Their information is entered into the computer and then they are transported to Casa Alitas in Tucson. Spanish is helpful but not required. If interested please contact Casa Alitas at alitas@ccs-soaz.org for more information
---
Lauren Kuby, Candidate for Arizona Corporation Commission
Tempe Councilmember Lauren Kuby was elected on a sustainability platform. In her two terms, has been recognized as a national champion for climate solutions and cities as incubators of innovation. Lauren has led Tempe's efforts for social, economic, and environmental, justice, including initiatives related to equal pay, earned sick days, clean energy, climate action plans, affordable housing, animal welfare, urban forestry, transparency, and campaign finance reform. A consumer watchdog, she is currently a candidate for the Arizona Corporation Commission, which sets utility rates and renewable energy standards. Go to her website to donate to her Clean Elections Campaign and to sign her petition:
https://www.laurenkuby.com/sign
---
---
---
---
Sign up HERE for the weekly Arizona Legislative Update
---
Request to Speak
The Request to Speak system is one of the most effective ways to communicate your views to our state legislators. Using this system, from your computer, you can indicate your support or opposition to bills under consideration by state legislative committees. You can vote a simple "for" or "against" or "neutral", and optionally add comments. You can also sign up to speak in person. Read More
---
---
LD2 State Officials