Welcome to Green Valley Democrats!
We are a community organization that stimulates and promotes democratic values, by offering educational and action opportunities. Please join us!
Donate to Keep Headquarters Open!
We need your help to keep Headquarters open! Expenses run about $2500 per month. Your recurring donation of even $10 per month will help keep us up and running. Please consider donating now at Act Blue. Thank you!
Upcoming Events
Kirsten Engel
Candidate for U.S. House of Representatives, CD 6
Saturday, October 8, 3 p.m.
Via Zoom
Kirsten is a mom, an environmental attorney, and a former State Legislator who has spent the past five years fighting to restore funding to public schools, protect Arizona's natural resources, and make our communities safer. She's ready to take that fight to Washington to find common-sense solutions to the challenges we're facing here in Arizona's Sixth Congressional District.
Zoom link:
https://us02web.zoom.us/j/87312054912?pwd=SFVpZ1NPUmFoNFpTSmszWURHRXFUQT09
Sponsored by Green Valley Democrats
---
Stanley Feldman
Voting and the Constitution

Saturday, October 22, 3 p.m.

Via Zoom
The Honorable Stanley Feldman is retired from serving as a Justice on the Arizona Supreme Court and is currently a practicing attorney in Tucson. He will present a program concerning voting and the Constitution. His expertise is all-encompassing and valuable.
Zoom Link:
https://us02web.zoom.us/j/81906139454?pwd=bk1Hc2NtQkdQZk5qenRUMGRZenFCUT09
Sponsored by Green Valley Democrats
---
Our 2022 Dinner and Auction Fundraiser was a huge success. Thank you for your support! Here are some photos from this fun event.
WE HELP Campaign
With holidays approaching and food bank shelves needing to be filled, we will extend
the collection of non-perishable food items and household paper and plastic
products until December 2 for Sahuarita Food Bank. They report a need for canned
vegetables.

Bring your donations to the headquarters Monday – Friday, 10 a.m. – 2 p.m. Let's
fill the little red wagon several times!

Questions: Becky McCreary rebeccamccreary764@gmail.com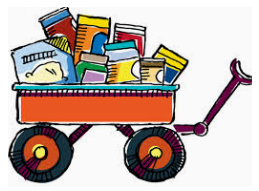 Democratic Candidates, General Election 2022
Click HERE for more information on candidates, referendums, and initiatives.
---
Join or Renew Your Membership
Now Accepting Membership Dues for 2023
Dues paid before January 1, 2023 are at the current rate of $25. Beginning January 1st, dues will increase to $30 per year. Submit your dues early to take advantage of the current rate. Dues may be paid on-line at ActBlue. in-person at Headquarters or by printing out and mailing in this form to:
Green Valley Democrats
PO Box 131
Green Valley, AZ 85622
Please note on your check that it is for "Membership 2023."
We currently have 348 members for 2022. Help us get to 400 in 2023.
Democracy Needs You!
---
Redistricting Information
The final, approved IRC map has 13 safe Republican districts, 12 safe Democratic districts, and five competitive districts, based on the metrics the Arizona Independent Redistricting Commission uses. (read more)
State Politics Matter!
Keep Informed and Voice Your Opinions.
Subscribe to Civic Engagement Beyond Voting (https://www.cebv.us/) to keep up with state legislative issues. Their website and weekly emails provide critical information on proposed legislation and how to voice your opinions using Request to Speak. Subscribe now!
---
---
LD2 State Officials